Pre-programmes – for optimal results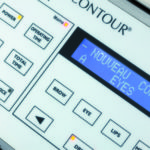 At the press of a button, needle frequency is automatically adjusted to suit the tolerance of the skin.
Precision needle control
Reducing the risk of skin trauma and improving colour retention, precise needle control helps pigments go in smoother, faster and with greater evenness.
Legal compliance
Designated 'Safe by Design' by the Health and Safety Executive. When used and cleaned correctly, there is no risk of cross contamination between clients.
Learnt from the best
I chose to train with Karen Betts and her trusted team of elite-artist trainers, as they are amongst the world's leading authorities in permanent cosmetics and microblading.
I have learnt specialist techniques that no other training academy currently offers. The scope of my training includes many different brow styles, eyeliners, lip liners and blends so that I can offer you a wider range of treatments.
Mentoring continues during and after training – face-to-face, online, by telephone and text. I strive to do better and will always expand my learning journey.
Products & Tools
I only use the best tools and products in the industry. K.B Pro pigments, for example, won the 2016 Innovation Award at the National Micropigmentation Awards for having the best colour retention, best healed results and most natural fading.